I think most of the peoples are confusing about "how do i find the remote code for my dvd player" or how to program it. From this article everyone will be get clarification about their doubts regarding sanyo universal remote dvd player. If you're one of them so please read this article and get to know all the aspects of this topic now. There are few codes for it and you can find them easily. So why late let's get started.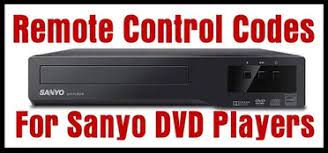 Do you have the default sanyo dvd player remote and would you like to get this dvd player universal remote codes for programing the player? then surely this post will help you. You can find the codes below for this DVD player. Of course you can see there are more than one code for each device, so that if you couldn't pair your remote control with your sanyo by using a code you can try with another code. Of course this device usually supports a four digits code.
The sanyo is not that much popular brand in the technology market. Basically, sanyo dvd gets a default remote control. But for any reasons you'd misplace your sanyo dvd remote or else it suddenly got into spoilt at that time you can shift to use sanyo universal remote to pair with the DVD.
First of all here all you need to know that how to program a universal remote to a sanyo dvd player before you find and use the code. We have also mentioned simple step about how to find the code and program in an easy way. Let's begin with the sanyo tv codes now.
One For All Universal Remote Codes For SANYO DVD
4 Digits Universal Remote Control Codes For SANYO DVD
0873
0790
1919
2393
2050
0670
0695
0896
Sanyo DVD Player Universal Remote Codes For GE
Sanyo DVD Player Universal Remote Codes For RCA
How To Program Universal Remote Control For SANYO DVD
Turn your sanyo dvd set On
Then press and hold your universal DVD remote to face your SANYO DVD that you
wish to program.
After that find out the "Menu" button on your universal remote control. Tap on the "Settings" option and then "Program Remote" then select 'DVD' or any device that you wish to connect.
Find out the "Slide Mode" on top of the 'DVD'. Select 'SANYO' from the options. Then at the same time hold the 'Mute' and Select' buttons together.
If you've got this procedure correct, then a tiny light will blink four times. Whenever it does, you can pick any of the codes from above for your device and then enter. Now the button light will turn off once you get the correct code. If not, try with another code.
Finally click on any of the functions keys on your remote control. If it is working, then you got the correct steps but if it doesn't work, try with another code with same procedure.
How do i Find my Universal Remote Code?
Depends upon your convenience and requirement, there are so many various ways of how to program a universal remote to a sanyo dvd player. As usual like for all device, to this device also codes plays a vital role to easily perform the process. However the below mentioned guidelines that we provide shall be guiding you to setup the device with Sanyo DVD remote. Until you follow the instructions, you'll surely succeed with the method. Here are the best instructions for programing easily the Sanyo DVD remote:
How to Use Sanyo DVD Player Without Remote Codes
Of course in this auto search method, all the sanyo dvd/vcr combo universal remote codes shall be gone through the scanning procedure in the remote. Mainly it scans a code simultaneously in order to find out the correct one which suits and ready to pair with your remote to operate the control. Follow our guidance given below:
First of all "Turn your device on" like "TV" which you would like the universal remote to operate.
Now "Turn on" the remote, click on the device button (TV, DVD, CBL and OK/SEL) for about 3 seconds. Here the LED light shall indicate the device is ready to be programed.
Face your remote to the device and then tap on "CH+" & "CH-" buttons. The remote will show on/off signals. Press "up" or "down" buttons continuously till the device will switch off.
Now verify the code after clicking on "Power" key. So that the device must be turn on. If it starts, try changing the channel to verify and confirm that remote is programmed correctly.
Finally, click on "device" button for saving the code. LED of Device will blink two times for confirming the code stored.
Manual Method
By the below mentioned keycode method we can surely program a universal remote and the keycode identifies the make and model of your equipment. So let's try to find out the answer for how do i program my ge universal remote to my sanyo dvd player? with this method from down below.
To begin with "Turn your device on"
From your "Sanyo dvd universal remote" you have to tap on "TV" option.
After that press and hold "Setup button" of your universal remote until you see the "Light Flash" on it (It means it is in "Learning mode")
Here you need to enter "Keycode" which you've gathered from the programing guide (Instructions Booklet).
Once you're done with these steps, just "face your remote at the TV" and then "Press And Hold The Power" button
You can release the "Power Button" whenever the screen turns off.
That's all you need to do. your TV will be working fine now with the universal remote control, if your device is not working then try to repeat the same procedure with an another code from the same part of the reference table.
Code Search
If you're unable to find out the key code that works for the device at that situation you can easily setup your universal remote to search mode for the correct one. Its a code in manual which forces the remote into the search mode automatically.
First of all "Turn Your Device Start"
Now press and hold the "Setup" option
Enter the "9-9-1" (three digit) code
Now hold down the "Power Button" on the remote and then tap the Ch+ them until the device in this case your tv "Turns Off"
Of course this code search method definitely takes some extra time than the above two methods but it is very important and worth to find your key code. Once you have done with the above procedure your remote should be working fine for all the in functions.
Conclusion
Have you found universal remote codes for sanyo blu ray player or for ge universal remote and they worked well? If you've succeeded in programming sanyo dvd remote, then don't forget to share your experience with us through the below comment section. Also please leave the code below that you used with which device. Your one comment with your used code may serve as the reference to our other readers who are facing the same. Don't be hesitated to leave your comment on the box provided below.